WULIBIKE MEN'S TRON CYCLING JERSEY LONG SLEEVE ORANGE
Tron legacy unique cool design: Tron series exquisite light effects prints sapphire, blue and orange
Quick dry and breathable.
Mesh side for the best breathability.
Elastic hem with silicone for grip cut slightly longer in back for better coverage.
Long sleeve full zip cycling jersey men, reflective strip and 3 rear pockets.
MEN'S CYCLING JERSEY LONG SLEEVE DETAILS & MATERIALS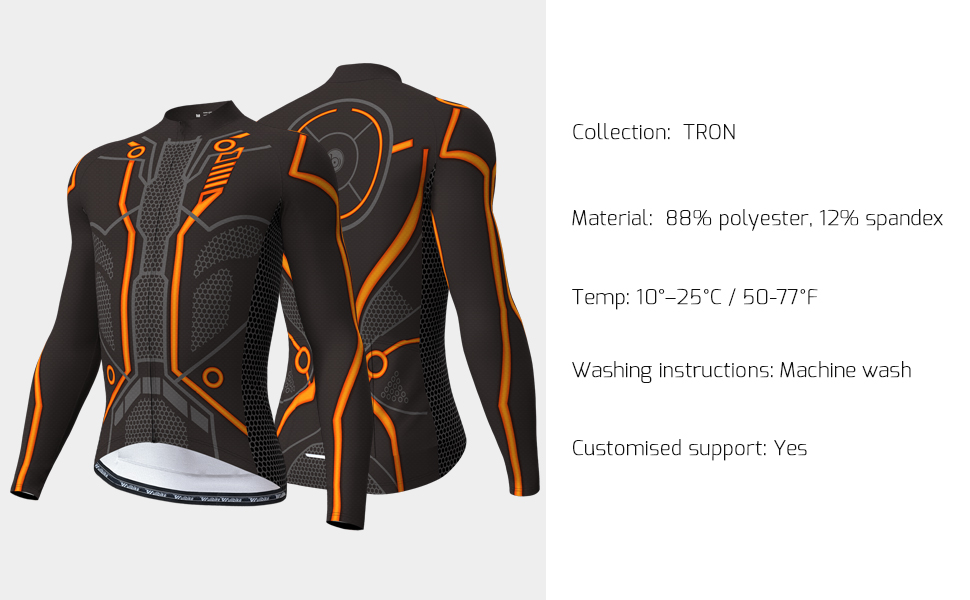 Applicable: More breathable, quick dry, and elastic.
Suitable for long and short riding, night riding, mild cross country, and short distance racing cycling.
Material: breathable quick-dry, also keep warm.
Design & Cut: 3D and seamless cut to reduce the body rubbing, more comfortable and fitness, The armpit of Jersey adopt a whole piece special mesh material, sweat absorption, breathable and quick drying!
3 Pockets: Classic 3 pockets at the back, easy for holding items.
Reflective Strip: Reflective strip at the back to ensure night riding safety.
Silicone Hem: silicone band, can prevent skin allergy and the cloth upglide during riding.
Full length zipper with lock feature.
Print and ink: sublimation print technology, use high quality ink, environmental and never fade.
Everyone has a story and our story begins with the people,their ideas and their late-night brainstorming sessions which dedicate to make an cycling jersey just a little more close to perfection.