GRADIENT ALASKAN BLUE MEN CYCLING LONG SLEEVE JERSEY
Mens long sleeve shirt, a lively warm blue reminiscent of the summer sky, with a quiet quality and a touch of vintage.
Depending on the light source or time of day, it may appear as a snow peak on the body.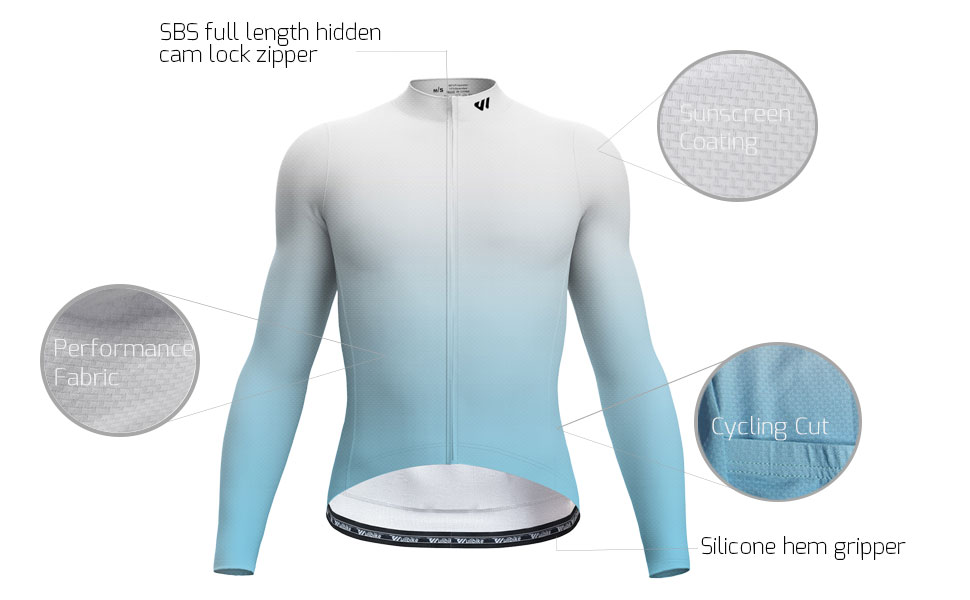 FEATURES
【Breathable energy fabric】Polyester added with 12% spandex, good air permeability, moisture permeability, and high spinnability, the utility model is light, thin, and soft, thereby wearing comfortably.
【Muti-pockets】3 Back pockets, convenient for storing small items.
【Back Reflective Tape】Reflective tape on both sides of the pocket, ensures your night safety while cycling.
【Professional Design】SBS Zipper, automatic lock function, in the process of motion friction forbid sliding.
MEN LONG SLEEVE SHIRT DETAILS & MATERIALS
Cooling and Wicking Fabric
long sleeve road bike jersey men
Round collar
Circular sleeve
Three Rear pockets
Silicon gripper on the waist
Reflective tape on both sides of the pocket
SBS full-length front zipper
FABRIC
Original Yarn
Antibacterial Treatment
SPF UV 35+ sun protection factor
88%Polyester/12%Spandex
Main Fabric 180g(6,35oz), Side Waist and Sleeves 110g(3,88oz)