Castelli Free Sanremo Trisuit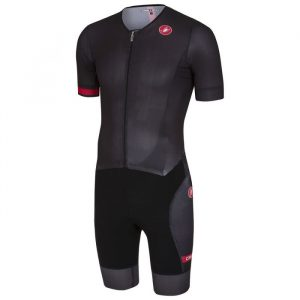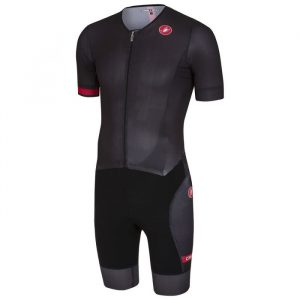 You definitely don't want to miss out on Castelli's newest addition, the sleeveless Free Sanremo 2 Tri Suit! This suit is a must-have for serious triathletes who are aiming for top performance in long-distance races. Packed with a range of exceptional features, it offers on-bike aerodynamic advantages for enhanced speed. The GIRO4 leg gripper and KISS Tri seat pad ensure maximum comfort throughout your race. The compressive fabric provides optimal muscle support, and the two generous rear pockets offer ample space for snacks and essential items. Choose this top-notch suit to take your triathlon journey to the next level!
Zoot Elite Triathlon Aero Racesuit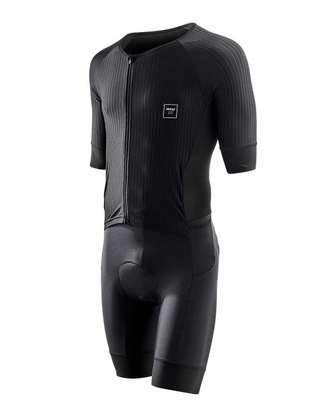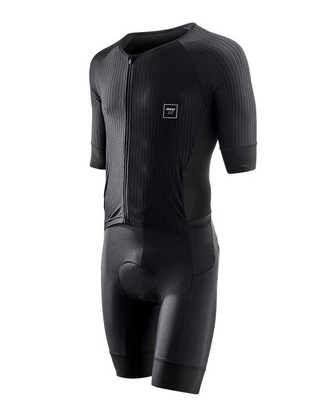 You're in for a treat with this stylish pinstripe suit, but we understand your yearning for Zoot's signature bold designs. Fortunately, Elite brings its own game to the table with some impressive features. The aerodynamic sleeves, equipped with a convenient full-length zipper for quick bathroom breaks, are a game-changer. The reliable smooth Italian fabric from Zoot ensures a comfortable and sleek fit, perfect for warm weather with its large mesh back.
While we haven't had the chance to see wind tunnel or CfD data, and can't personally attest to the recovery benefits of the touted compression fabric, Elite's ribbed "superhighway aero" fabric is designed to minimize drag and maximize performance.
For those seeking ample padding and tackling distances beyond the Olympic level, you might want to consider something more robust, even though the advantage is that it's practically invisible while running.
One thing we absolutely love about the Elite suit is its thoughtful details, such as the flatlock internal seams and multiple rear pockets, providing convenience and functionality.
No matter your cycling proficiency, Elite strives to deliver a suit that offers great value for its price. Give it a try and experience the difference it can make in your performance!
Dhb Aeron Ltd Edition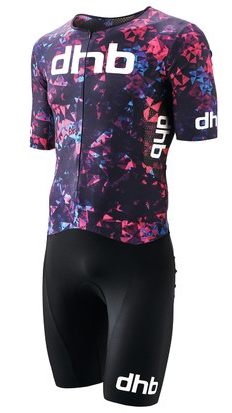 Upon first glance, you'll notice some unique and quirky elements in this limited edition tri suit. However, once you learn that it draws inspiration from one of the UK's most exceptional long-distance triathletes, Joe Skipper, it all makes sense.
Joe has been donning the exact same suit for his races. It's clearly designed for endurance cycling, ensuring your skin remains unscathed even after hours in the saddle.
The suit features two rear pockets, providing convenient and secure storage space. The shoulder design allows for ample flexibility, and the loose arm and leg grippers mean minimal restriction during the run.
If we must mention a minor drawback, it would be the potential for slight zipper friction at the bottom, even without any shoulder pull-down. However, this characteristic doesn't diminish the significance of it being a typical emblem of Joe's.
Most importantly, this tri suit boasts a loud and stylish design, setting it apart from the rest. Whether you're a fan of Joe Skipper or someone with a keen sense of fashion, this tri suit is sure to be your ideal choice.
Aptonia Short-Distance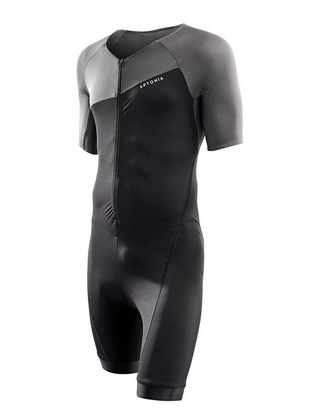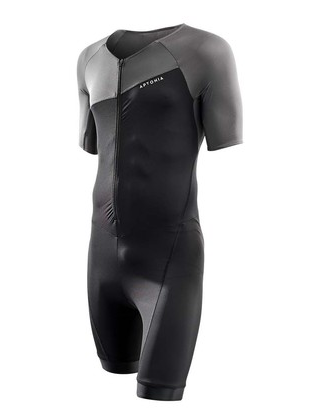 Decathlon's own brand has consistently earned high scores for its functional designs and affordable prices on these pages. While Aptonia's triathlon suit may not fully meet the demands of Ironman competitions, they have now introduced a new short-distance tri suit that is worth considering.
This tri suit exudes a sleek and minimalist triathlon aesthetic, with mesh stripes running along the spine to enhance ventilation. The strategically placed leg pockets provide convenient storage for gels, while the full-length zippered protection ensures ease of use. The covered rear pocket is a thoughtful addition for seamless swimming performance.
We also noticed a subtle compression effect in the thighs, offering added muscle support during your races. While there are a few compromises, such as a single rear pocket and materials that may not match up to premium brands like Santini, the overall functionality and value of this suit remain impressive.
Although the legs are slightly shorter, the powerful performance of this beginner's triathlon kit, combined with its budget-friendly price, makes it a compelling choice. Don't underestimate the capabilities of Decathlon's own brand – it's designed to meet the needs of triathlon enthusiasts at an accessible price point.
Santini Viper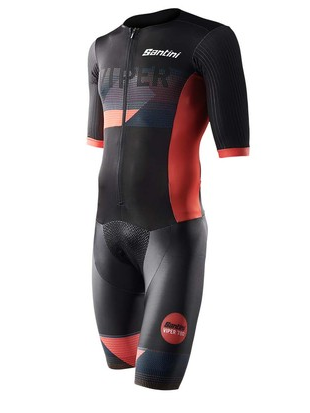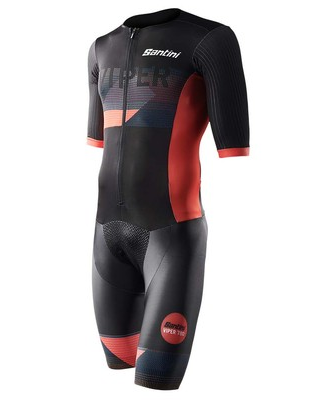 Santini excels in creating suits that offer the flexibility and versatility you desire. The long-distance version, donned by Ironman 70.3 World Champion Gustav Iden, is just a glimpse of their remarkable craftsmanship, and they even offer customizable options to cater to your specific needs.
The basic suit boasts a multitude of advantages, starting with its impeccable appearance. The chamois material is of superior quality, ensuring optimal breathability, while Santini's commitment to providing excellent sun protection is unwavering.
One notable feature is the unique grip around the hips, offering a secure fit. It not only feels fantastic but also adds a touch of superhero flair. However, it doesn't significantly enhance the promised extra saddle grip.
The suit's longer sleeves and leg length, whether intentional or not, are highly appreciated by many. They provide additional coverage and a sleek look. On the downside, the zipper can be slightly uncomfortable and may cause friction, especially during intense cycling sessions.
Pearl iZumi Elite Triathlon Speed Suit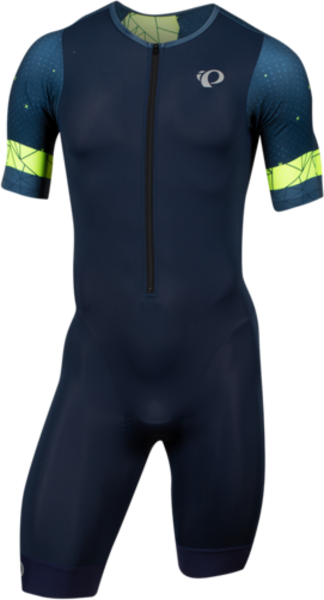 The Pearl iZumi Elite Ironman Tri Speed Suit goes beyond expectations to deliver exceptional performance in Ironman triathlons. Engineered with the latest aerodynamic fabric technology, this one-piece short-sleeved suit is designed to slice through the wind, helping you gain a competitive edge on the bike leg of the race.
Not only does it offer outstanding aerodynamics, but it also provides UPF 50+ sun protection, shielding you from harmful UV rays during those long hours under the scorching sun. The Elite Transfer In-R-Cool material keeps you cool and comfortable, even during intense exertion, thanks to its moisture-wicking properties and reflective technology that prevents overheating.
The strategically placed Elite Transfer Aero fabric further enhances aerodynamics, ensuring optimal airflow and minimizing drag. The seamless stitching creates a second-skin fit, reducing the risk of chafing and irritation, so you can focus on your performance without distractions.
The quick-drying chamois pad is designed to provide exceptional comfort and support during the bike leg, while seamlessly "disappearing" during the run, allowing for a smooth and unrestricted stride. Transitioning from land to water and vice versa is made effortless, thanks to its easy-on/easy-off design, allowing for natural movement and seamless integration into your race routine.
Recommended for beginner to intermediate level Ironman triathletes, the Pearl iZumi Elite Ironman Tri Speed Suit is a reliable choice that will support you through multiple seasons of training and racing. With Pearl iZumi's reputation for quality and performance, investing in this tri-suit ensures that you make the most out of your hard-earned money and enjoy a comfortable and efficient race experience.
HUUB DS Long Course – Best Tri Suit for Ironman
The HUUB DS Long Course Triathlon Suit is designed in collaboration with six-time Ironman World Champion Dave Scott. This high-performance suit is specifically crafted for long-distance races, combining aerodynamics, comfort, and breathability.
Constructed with cutting-edge Italian fabrics, the suit offers a soft and comfortable feel while quickly wicking away moisture to keep you dry. It features breathable mesh panels and utilizes Coldblack technology for temperature regulation and sun protection.
The design incorporates aerodynamic sleeves and a rear nutrition pocket, enhancing speed capabilities. The chamois pad is tailored for long-distance triathletes, allowing unrestricted movement during cycling and providing comfort with an open hip position.
Overall, this suit is ideal for individuals seeking cool comfort during long-distance races. It not only delivers superior performance benefits but also ensures freedom of leg and hip movement, enabling you to perform at your best.
Tri-Fit Geo
The Geo offers numerous appealing features, showcasing thoughtful design elements. Clever innovations like side-access rear pockets effectively reduce drag without compromising storage capacity, and the laser-cut hems contribute to an incredibly comfortable fit.
The Geo is truly magnificent. It delivers a solid swim performance, and the longer sleeves offer added sun protection during the run. Although the fit around the arms could be improved and the color scheme may be considered somewhat uninspiring, these aspects are subjective and may vary depending on personal preferences.
The suit proves highly competitive in the mid-range price bracket, and it's worth noting that the female version (not included in this particular group test) also received impressive reviews.
In conclusion, the Geo provides excellent value for its price and is specifically designed to prioritize saddle comfort. It is an incredibly impressive all-around triathlon suit.
2XU Aero Sleeved
2XU has once again demonstrated its ability to produce high-quality gear at affordable prices, and this holds true for their latest offering. Priced at £130, this suit was the most budget-friendly option in the test, making it a compelling choice due to its excellent value for money.
The suit boasts seam-free sleeves that contribute to good aerodynamics and overall comfort across all three disciplines. Additionally, it claims to provide advanced muscle support, although this particular claim could not be substantiated in this test.
While the chamois is decent, it doesn't stand out as exceptional. However, the suit makes up for it with its generously sized rear storage pockets, which surpass those found on many other suits.
A notable feature is that the top half of the suit is only partially attached to the bottom, allowing for easy access during toilet stops—a convenient aspect to have during long-distance races.
On the downside, the fabric used in the suit doesn't exude a premium feel. While not a deal-breaker, it might be seen as a compromise to maintain its highly competitive price point.
Huub Anemoi+
The Anemoi+ was introduced in 2019 as an upgraded version of the original Anemoi design, incorporating modifications based on real-world testing. Notable improvements include a longer zip, making it convenient for quick bathroom breaks, as well as longer legs, ribbed arms, and bonded seams to enhance its aerodynamic appeal.
During a self-organized triathlon in Hawaii, consisting of a 3.8km swim, 120km bike, and 11km run, we put the Anemoi+ to the test. The suit proved to have unrestricted arm movement during the sea swim, a barely noticeable chamois during the run, and provided just the right amount of comfort while in both the tri-bars and hoods positions.
What truly stood out about the Anemoi+ was its new Moov&Cool technology, combined with underarm venting. Throughout the race, the garment remained free from chafing, itchiness, sunburn, and excessive sweat accumulation.
As a middle or back-of-the-pack athlete who relies on carrying multiple gels, the suit's single small pocket may not be sufficient for races longer than a 70.3 distance. However, for elite triathletes at the forefront of the competition, the Anemoi+ presents itself as a formidable contender.
Castelli PR Speed Suit
While the term "second skin" is often overused, the ultra-thin material of the PR Speed Suit genuinely feels like it has been painted onto the body. It molds seamlessly without any hint of wrinkles, and the ribbed arms and extended sleeves further enhance its drag-reducing capabilities.
The suit features a 17cm-wide pad and a pair of generously sized rear pockets, both of which can easily accommodate essentials. However, considering its £300 price tag, it would be preferable to have fully flatlock seams on the inside for added comfort.
During the run, the pad remained problem-free, although the fabric's transparency did reveal the presence of our hairy chests, somewhat detracting from the overall aesthetics.
Decathlon's Tri Suit Men's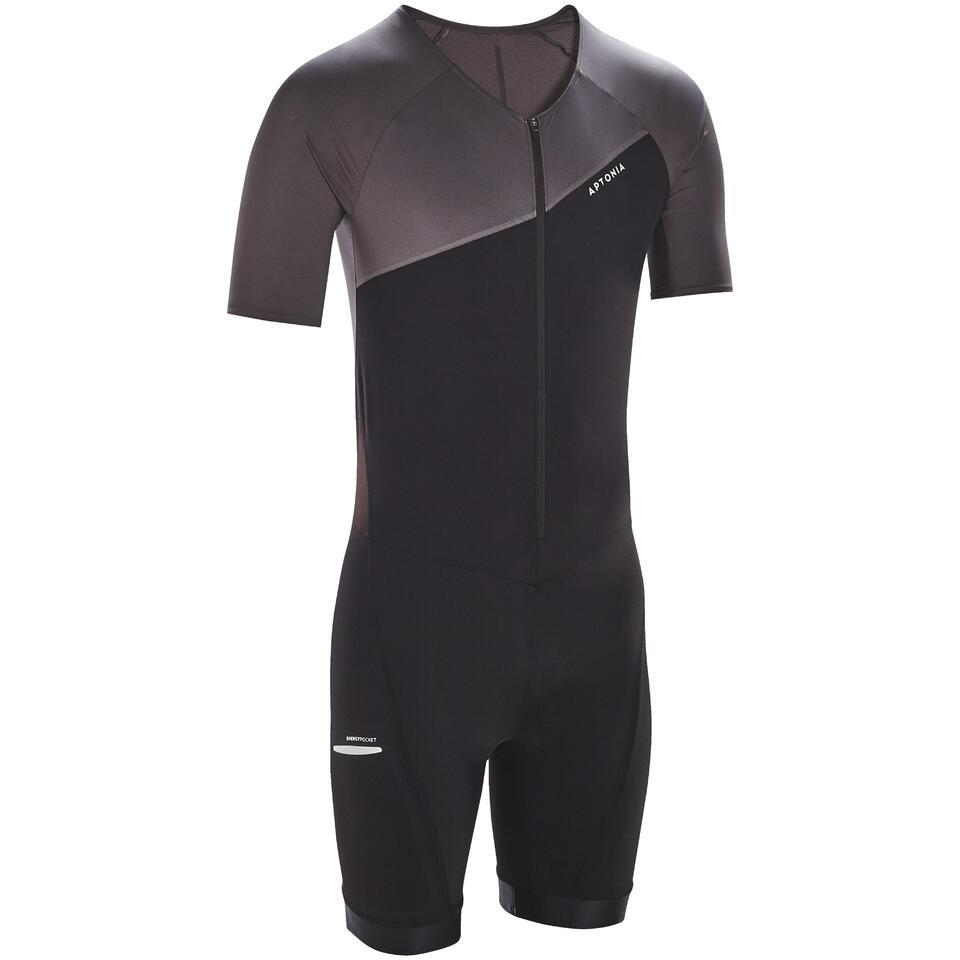 Decathlon's team of enthusiastic triathletes has developed a tri suit specifically tailored for individuals participating in their first triathlon event. The suit is constructed from quick-drying material and features flexible perforated foam that adds an extra layer of comfort during cycling.
To prioritize comfort and reduce chafing, all the seams of the suit are made from ultra-soft foam yarns. This attention to detail aims to enhance the overall experience for triathletes.
The men's tri suit from Decathlon incorporates several handy features to elevate your performance, including a front zip with an internal protection strip for friction prevention and easy dressing. Additionally, a small back pocket is included, offering ample space to carry essentials such as a phone, protein bar, or energy gel. The suit also incorporates a silicone strip at the thigh, designed to stay secure throughout running, cycling, and swimming.
Decathlon takes pride in subjecting each of its products to rigorous testing by experts in their respective fields. This makes it a reliable brand to consider when searching for triathlon gear that meets your specific needs.
If you are a first-time triathlon participant in search of suitable gear, we highly recommend exploring Decathlon's options. Their men's tri suit is specifically designed for entry-level athletes, ensuring quality without compromise.
Louis Garneau Aero Tri Suit
While not the most affordable option, the Louis Garneau men's triathlon suit stands out as one of the most comprehensive and well-rounded choices available. Known for their expertise in the cycling world, Louis Garneau has recently made a successful transition into triathlon equipment, showcasing their commitment to excellence and refusal to compromise.
This suit embodies a premium design with advanced aerodynamics and ergonomics. Louis Garneau's patented SpeedTech fabric, which underwent extensive speed tunnel tests, emerged as the fastest among more than 180 other contenders. It is strategically incorporated into the shoulders and back of the suit to maximize efficiency and performance.
Effective temperature regulation is crucial for triathletes, and this suit delivers on that front as well. Ice pockets positioned over the femoral and iliac arteries ensure optimal cooling of the blood vessels. The suit's pockets are thoughtfully designed to be streamlined, spacious, and secure, featuring a tight elastic seal to prevent the loss of essential nutritional snacks.
While there are numerous exceptional features to highlight in this men's triathlon suit, it's safe to say that whatever you're seeking in a tri suit, the Aero model likely has it covered. It offers an abundance of features that may not have even crossed your mind. However, it's important to note that this level of luxury comes with a price tag, and it may be worth waiting for a men's triathlon suit sale to potentially save some money.